Executive Director - jjones@thearkofstsabina.org
After graduating from the University of Iowa with a B.A. in journalism and mass communications, Jocelyn worked for PBS affiliated Channel 20 before realizing she wanted to pursue a career that would allow her to make a difference in the lives of others. She left her position at Channel 20 in 2008 to work as the Violence Prevention Coordinator at the ARK of St. Sabina and developed a number of youth empowerment programs at the ARK, including some that have received statewide attention. In 2010, Jocelyn became the Executive Director of the ARK of St. Sabina. She later went on to earn her M.A. in social service administration from the University of Chicago in 2012. Jocelyn has carried the ARK through the Illinois budget crisis and, and has helped to launch new programs and initiatives to ensure the organization continues to make an impact even in the midst of a difficult financial environment.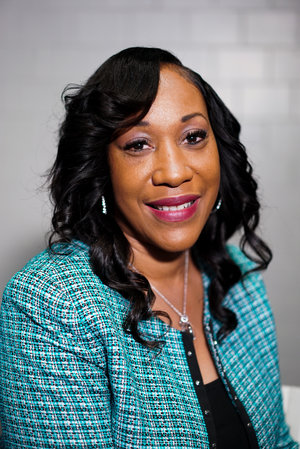 Violence Prevention Manager - pbosley@thearkofstsabina.org
Pam graduated magna cum laude from Olivet University with a B.A. in business administration and spent over 20 years in the world of banking. But after one of her sons, Terrell Bosley, was murdered at the age of 18 on the grounds of a church in 2006, she changed directions to make a difference in the lives of youth. As the ARK's Violence Prevention Manager, Pam has empowered young people to be leaders and self-advocates, guiding them to discover their own voices and abilities to bring change to their communities. Pam is also the co-founder of Purpose Over Pain, an organization that was founded to offer support to parents who have lost children to violence, advocate for common sense gun measures, and provide a safe space and mentorship for youth.
Senior Program Director - cholmon@thearkofstsabina.org
Courtney became a part of the ARK's family in 2011 when she joined as a volunteer during her senior year at Roosevelt University. Upon receiving a B.A. in Sociology, Courtney went on to teach 6th-8th grade at Woodson Elementary School; but knew she always wanted to return to the ARK. Following a year of teaching, Courtney returned as a part time tutor at the ARK. As she excelled in the role, she was promoted to Program Coordinator and continued to progress through the organization as Assistant Program Director, Program Director and eventually her current position of Senior Program Director. During her tenure at the ARK, Courtney has reformed the after-school program by providing structure, adding Fitness, Team Building, Female and Male Discussion group sessions, as well as creating a culture of empowerment and support for both staff and youth. Her mission is to sustain programs that shape, empower, and educate our youth. Courtney holds an M.A. in Nonprofit Management at North Park University and is the current president of Delta Mu Delta Honor Society.